Transcript processing leveraging AI: applicant admission process automation
We may observe that universities around the globe still process manually large amount of student applications throughout the admission periods. Literally, university staff are buried under the tones of manual work related to reading, understanding, capturing and processing student data. The manual application processing is extremely time-consuming, error-prone and mostly inefficient as associated with constantly increasing operational cost.
Beyond doubt, the manual data processing nowadays could be streamlined and intelligently automated by releasing human capital (university staff) to do more intelligent work. Let's review what is possible to automate in scope of applicant admission processes leveraging out-of-the box intelligent automated solutions available on the market:
Document Classification
By leveraging innovative AI-based intelligent automated solution - now it becomes possible to perform document classification in fully automated mode. You may upload batch of documents, even a file containing different types of the documents that are spanning across multiple pages and intelligent automated solution will process the submitted batch of the documents by classifying the documents by type: Applicant ID, Application form, Diploma, Certificate, Transcript, other supplementary documents of semi-structured nature. This inevitably facilitates to sort out and structure the submitted deck of documents before its further processing.
Target Data Capture
Either this is an Applicant ID, or Student Transcript or even Diploma - innovative AI-based intelligent automated solutions nowadays are capable to locate, capture and recognize the required dataset from the particular document type for further data processing. You may only need to provide certain input for the machine / define rules which data you are interested in and respectively which data the machine shall capture.
It is better always to see all in action - "Student Transcript processing by capturing the required data":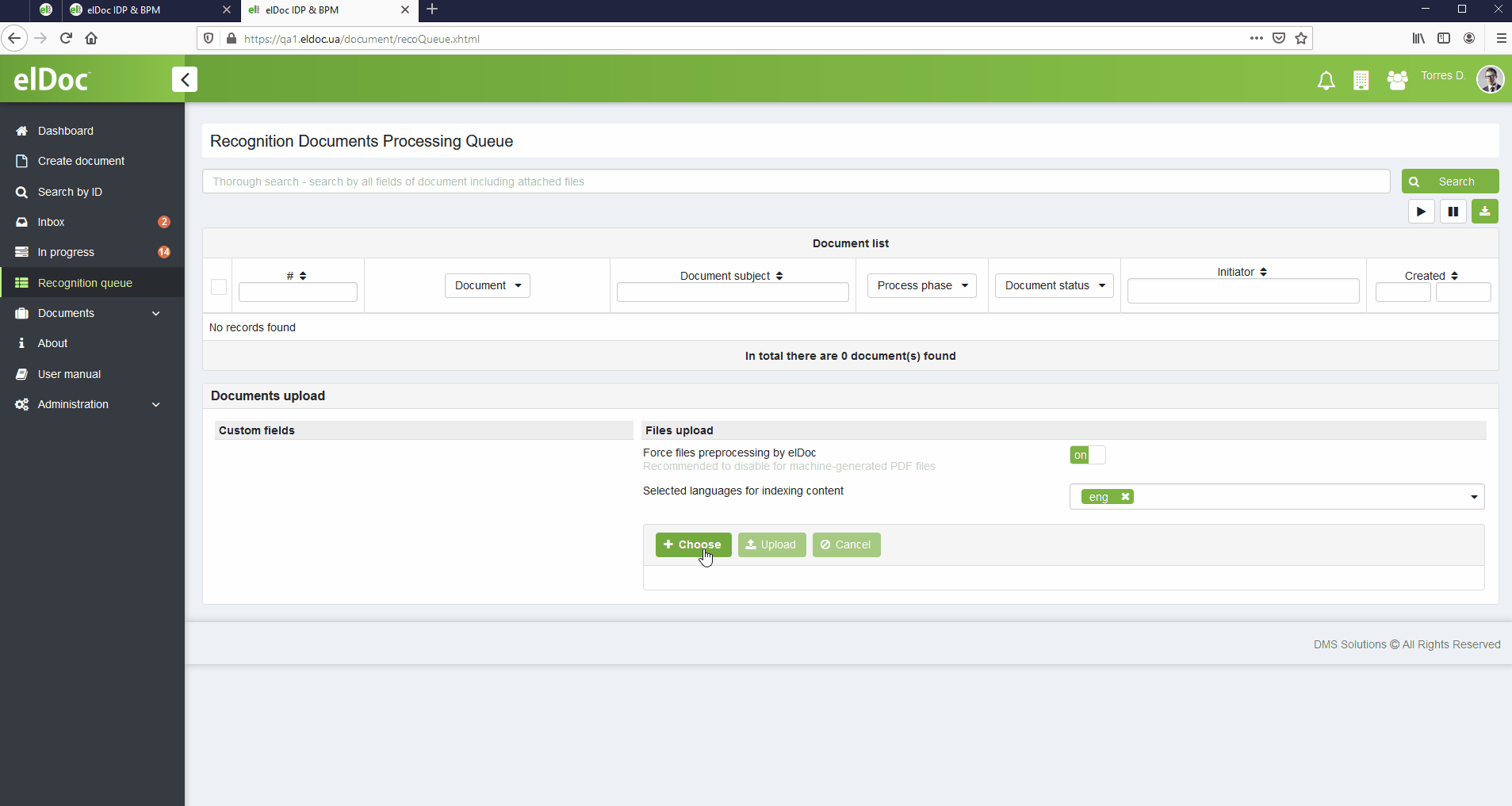 Data Validation
In case it is required by certain business scenario and for the purpose to handle exceptions, you may also set the rules for authorized users to validate the captured data before its further processing. In addition, you may setup without programming (by leveraging "No Code" capabilities) the document workflow by routing the document for further review / processing / archiving.
Centralized Document Storage
Once documents of the applicant have been processed, you might also require to store the applicant documents deck for further reference and audit purposes. Considering that applicant documents are of personal data nature - you may also require to set the necessary settings for access control where only authorized users will have permissions to preview / download / print / edit / access particular document type.
The list of automated capabilities for automating applicant admission process is not limited by the above-mentioned and could be further extended based on the particular usage scenario.
Conclusion
At first sight, automating applicant admission process from end-to-end perspective might look complex and scary but eventually if to leverage out-of-the box AI based intelligent automated solution - the automation of such process is not a big deal. Leveraging right stack of technologies and truly intelligent automated solution will definitely facilitate to streamline applicant admission process by making it highly efficient, less error-prone and applicant-friendly in a very short time.
More good and quick read: OCR solutions comparison analysis (Tesseract, Google Vision and elDoc)
Willing to watch more use cases on student transcripts processing - follow the link: Automated Transcript Processing via elDoc
About «elDoc»
«elDoc» - Integrated Intelligent Automated Platform for Document Understanding, Document Workflow Automation and Content Management from Anywhere. «elDoc» is enterprise level solution available as SaaS and on-prem for end-to-end Intelligent Document Processing. elDoc is powered with cognitive technologies (Artificial Intelligence including Computer Vision) to be capable to process intelligently documents (scanned and digitally generated) of any complexity with further end-to-end document processing and document workflow automation.
About «DMS Solutions»
DMS Solutions is a vendor of Integrated Intelligent Automated Platform for Document Understanding, Document Workflow Automation and Content Management from Anywhere - "elDoc".
«DMS Solutions» is your professional implementation service partner in the field of Intelligent Automation and Advanced Robotic Process Automation. We leverage Computer Vision, Machine Learning, Artificial Intelligence to build a powerful digital workforce for your business to win on the market. «DMS Solutions» is a certified Advanced Technology UiPath Alliance Partner and Technology Blue Prism Alliance Partner in the field of intelligent document understanding (Intelligent OCR).