Automating Utility Bills Processing: data extraction from CLP, HK Electric, WSD, Towngas, HKT
Utility Bills processing is a very cumbersome, time-consuming process, especially for companies that have several distributed offices (premises) in Hong Kong that need to settle utility bills to different Utility Service Providers for different utility services provision (gas, electricity, water supply, telecommunication, etc). Streamlining and automating utility bills processing becomes nowadays one of the key automation tasks for every organization that is planning to increase efficiency and cut operational cost.
Which companies shall consider Utility Bills Processing Automation?
Particularly, the companies that have several offices or branches such as but not limited to:
Property & Real Estate Developers;
Real Estate Managing Companies;
Banks with its numerous numbers of branches;
Hospitals & Clinics;
Accounting Managing Companies;
Retail shops;
any type of businesses that have distributed offices.
What are the most common utility bills are to be paid in Hong Kong?
Utility Bill to CLP for electricity. China Light and Power (CLP) serves Kowloon, the New Territories and Outlying Islands;
Utility Bill to HK Electric for electricity. The Hong Kong Electric Holdings distributes electricity to Hong Kong and Lamma Island;
Utility Bill to WSD for water supply. Water in Hong Kong is supplied by the Water Supplies Department of the Water Authority;
Utility Bill to Towngas for gas. Most properties in Hong Kong are supplied with piped gas, which is supplied by Towngas;
Utility Bills to HKT for Telecommunication.
What are the key challenges for automating utility bills processing?
All Utility Bills have different layout and structure;
Utility Bills from the same Utility Service Provider have diversified range of template variations;
Utility Bills may come both in English and Chinese that complicates data understanding and data consistency;
Data subject to capture can be span across multiple pages;
Data is not unified across different types of utility bills.
Moreover, utility bills processing is very time-consuming and error-prone process. It takes significant human efforts to manually process, reconcile and pay utility bills. In most of the cases utility bills processing is associated with high operational risk of making an error in calculation and bills settlement. Trying to find and correct the errors is also very expensive and time-consuming operations for the business.
Different OCR solutions available on the global market are not tailored to process utility bills from the major Hong Kong Utility Service Providers from day one. And for many Hong Kong based enterprises it is very critical to have solution available out-of-the box capable to process HK utility bills from CLP, HK Electric, WSD, Towngas, HKT.
What are the key automated capabilities shall be in place to automate utility bills processing?
Industry leading Intelligent OCR providing high data accuracy rate for data recognition;
Computer Vision Technology for utility bills enhancement and image normalization before utility bills processing;
AI and other cognitive technologies for automated utility bills classification, data location and data extraction;
No Code BPM for utility bills workflow automation;
Document storage for utility bills maintenance and archiving.
On top to all above listed, the integrated automated platform shall be shipped with Granular Access Rights Management Framework to ensure proper access control to the financial data as well as Analytics to track greater performance and identify faster bottlenecks in scope of utility bills processing.
How automated data extraction from utility bills looks like in practice?
By leveraging Intelligent Automated Platform powered with Industry leading Intelligent OCR and AI technologies - it is possible to achieve e2e automated utility bills processing. Herebelow, it is showcased how elDoc is capable to classify the Utility Bills by type and extract relevant information from different utility bills (from the key Hong Kong Utility Service Providers: CLP, HK Electric, Towngas, HKT, WSD) with further automated data post-processing, verification and cross-validation.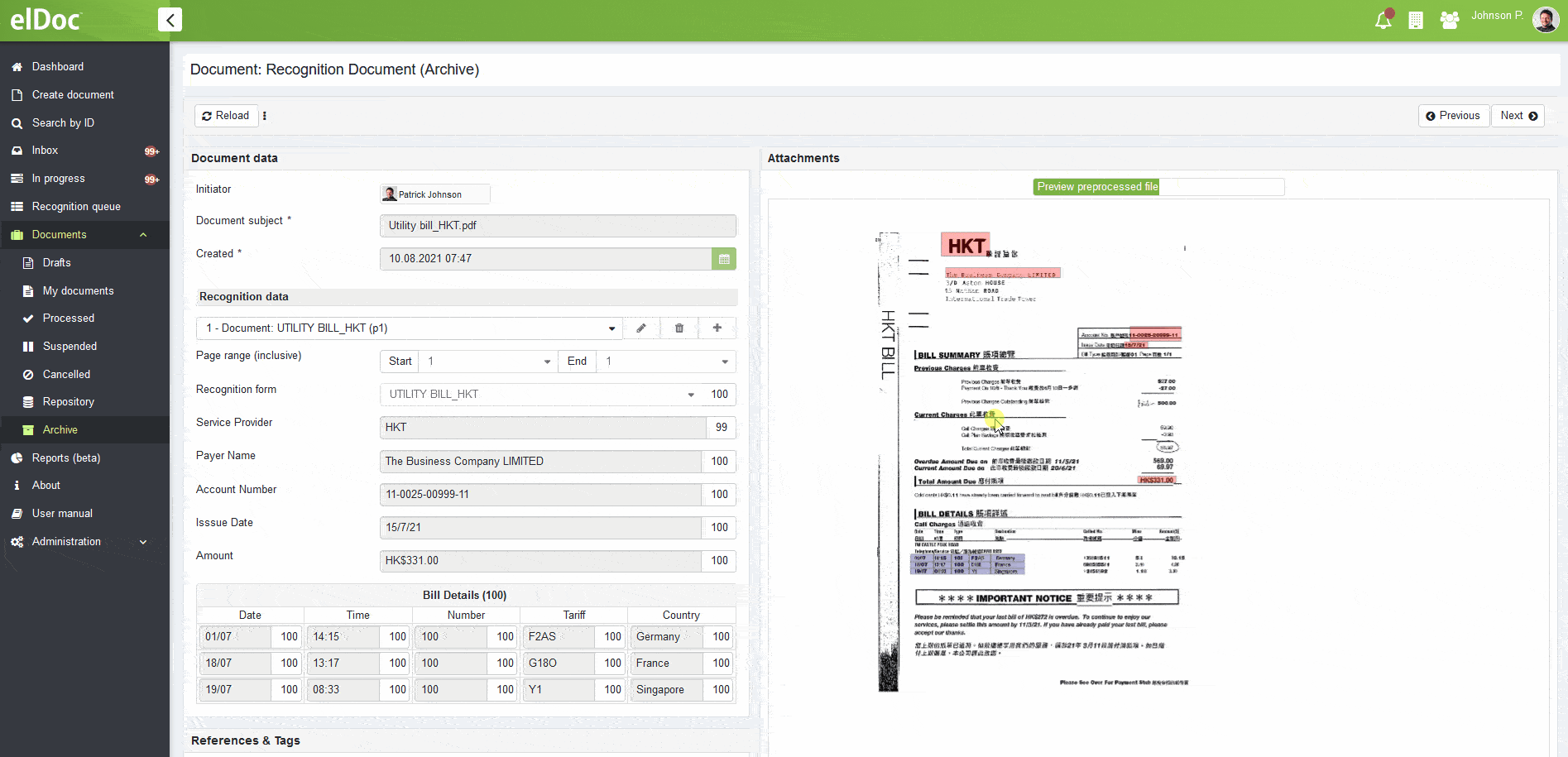 What are the key benefits of utility bills processing automation?
There are various automation benefits it is possible to achieve via implementing integrated intelligent automated platform for utility bills processing including but not limited to:
Improved Operational Efficiency
Improved net document processing time, enhanced internal customer services, increased overall operational productivity, reduced related operational cost, improved control spend, timely payments settlements. Automating utility bills processing brings substantial time savings, requires less human involvement, and improves data integrity and reliability.
Faster Straight Through Processing
Streamlined document processing, minimized human intervention, replaced manual data processing with intelligent automation. Faster transaction processing times and shorter utility bills payment cycles. Enhanced control over processing of each transaction. Straight Through Processing can provide your business with immediate competitive advantages such as greater staff efficiency and reduced error rate.
Greater Scalability
Unlimited document volumes to scale automation across different units. Possibility to scale automation up and down based on business needs. Unlimited document volume doesn't set any limitation to scale automation also across geographies to smoothly handle peaks.
Enhanced Security Framework
Implemented granular access control to confidential & sensitive information, profound and robust monitoring, audit trail, reporting & analytics framework to track utility bills document processing statuses. Only authorized users could validate or have access to the financial information. Validation is performed based on granted access rights and roles set in the system which is strictly controled and monitored.
Centralized Utility Bills Management
Unattended automation with possibility to run processes 24/7. Fully automated document processing allowing staff to focus on added value activities, enhanced business continuity, centralized utility bills management and storage. Intelligent document search capabilities including full-text search enables to quickly find any document or fragment of text among thousands of records.
Conclusions:
Automating or not automating utility bills processing is no longer a question. The question is on how to choose the right solution that would be capable to streamline utility bills processing and automate the whole process from end-to-end perspective delivering robust, tangible, and numerous automation benefits.
Explore more: Automated Utility Bill Processing
Willing to test how automated utility bills processing looks in practice? – Get elDoc Trial for Free!
About «elDoc»
«elDoc» - Integrated Intelligent Automated Platform for Document Understanding (Intelligent Document Processing), Document Workflow Automation and Content Management from Anywhere. «elDoc» is an enterprise level solution available as SaaS and on-premises for end-to-end Intelligent Document Processing. elDoc is powered with cognitive technologies (Artificial Intelligence including Computer Vision) to be capable to process intelligently documents (scanned and digitally generated) of any complexity with further end-to-end document processing and document workflow automation.
Willing to test how Intelligent Document Processing works in practice – Get Free Trial Now – «elDoc Online»
About «DMS Solutions»
DMS Solutions» is a technology company, a professional service provider delivering Intelligent Automation Solutions and is an authorized implementation partner of "elDoc" - Integrated Automated Platform for Intelligent Document Processing, Document Workflow Automation and File Management.
We leverage Computer Vision, Machine Learning, Artificial Intelligence to build a powerful digital workforce for your business to win on the market. We focus on exploring new ways to apply disruptive technologies and recent inventions to bring innovative automation solutions in. We break boundaries and help clients to achieve their strategic goals through delivering next-generation solutions.
Our Clients are high-performing enterprises coming from different industries: banking & financial services, insurance, logistics, healthcare, manufacturing & retail, government, real estate, transportation, oil & gas, energy, etc. We operate globally having HQ in Hong Kong.