Data capture from utility bills using AI
Managing and paying utility bills is very cumbersome, expensive, and time-consuming process for many corporations and private individuals. Utility bills volume could be a quite considerable especially for the companies that have distributed office locations and are to pay bills every month for the variety of services such as electricity, telecommunication, gas, water. Many companies around the world are facing with difficulty to find a right software that would be capable to read, capture and understand data from the variety of utility bills and process the data from end-to-end. Therefore, in this material – let's quickly list the core automated capabilities your intelligent automated solution shall have to automate your utility bills processing from end-to-end perspective, either you are large corporate business or private individual:
Utility bill classification
If you look closer at all your utility bills - you will see that all your bills are of different structure, nature, content. The utility bills are being prepared and issued by different utility service providers and respectively each provider has own way on how to prepare the utility bill. In case your goal is to automate utility bills processing - you shall have an automated capability in your automated solution to identify and classify the utility bills by type as well as capability to detect the variations among the utility bills of the same service provider.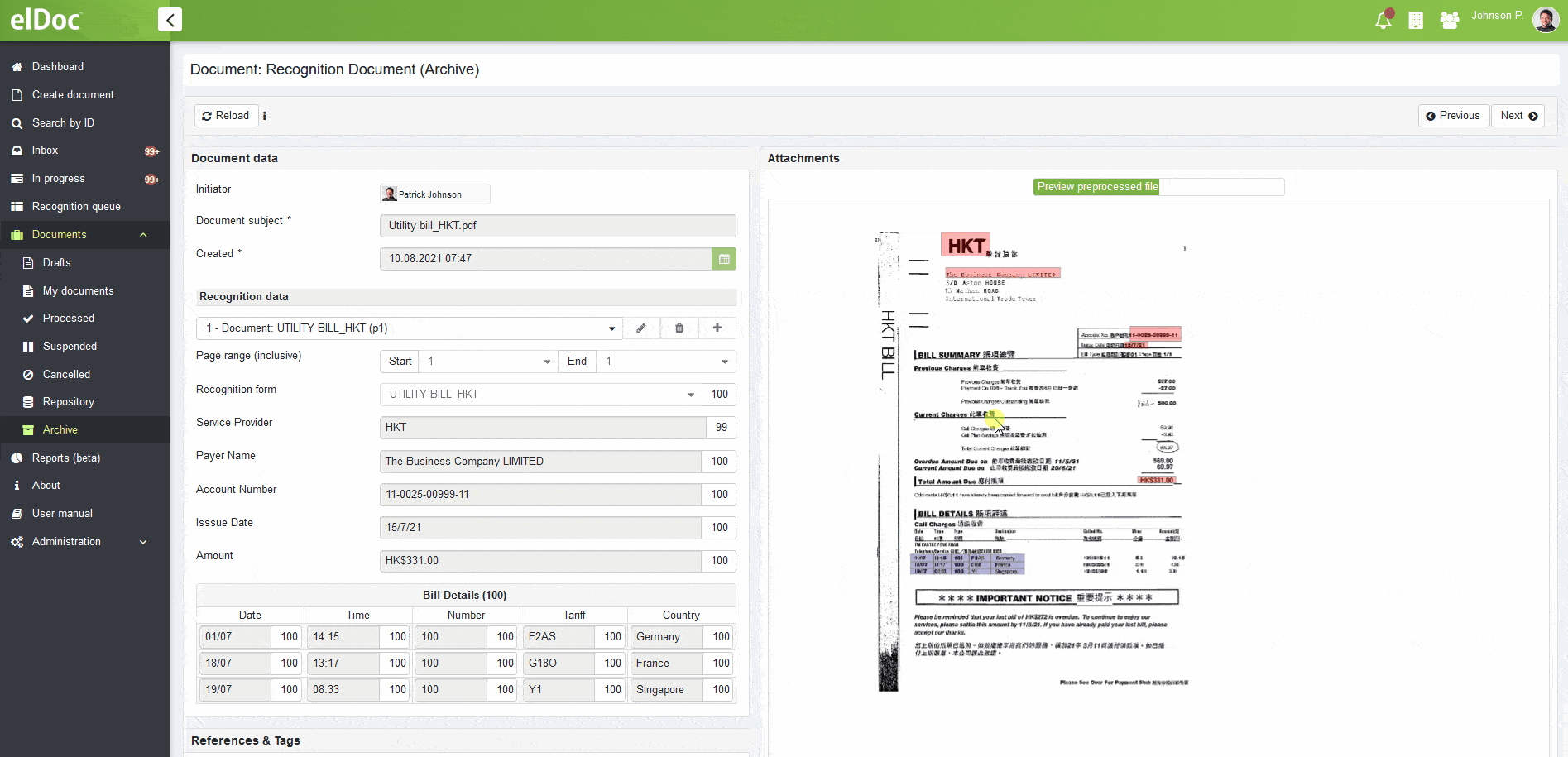 Utility bill enhancement
If you have your utility bills as digitally generated documents - you are lucky, you don't need to worry about the image enhancement and data accuracy level. But in case you need to process utility bills which are scanned documents - you might need to consider having in your automated solution the capability which is designed to enhance (improve) the image before the processing, particularly to perform image right-sizing, rotation, whitening background, removing unnecessary noise, image cropping, enhancing contrast, etc. Image enhancement is a very crucial automated capability in scope of intelligent document processing impacting directly your data accuracy rate.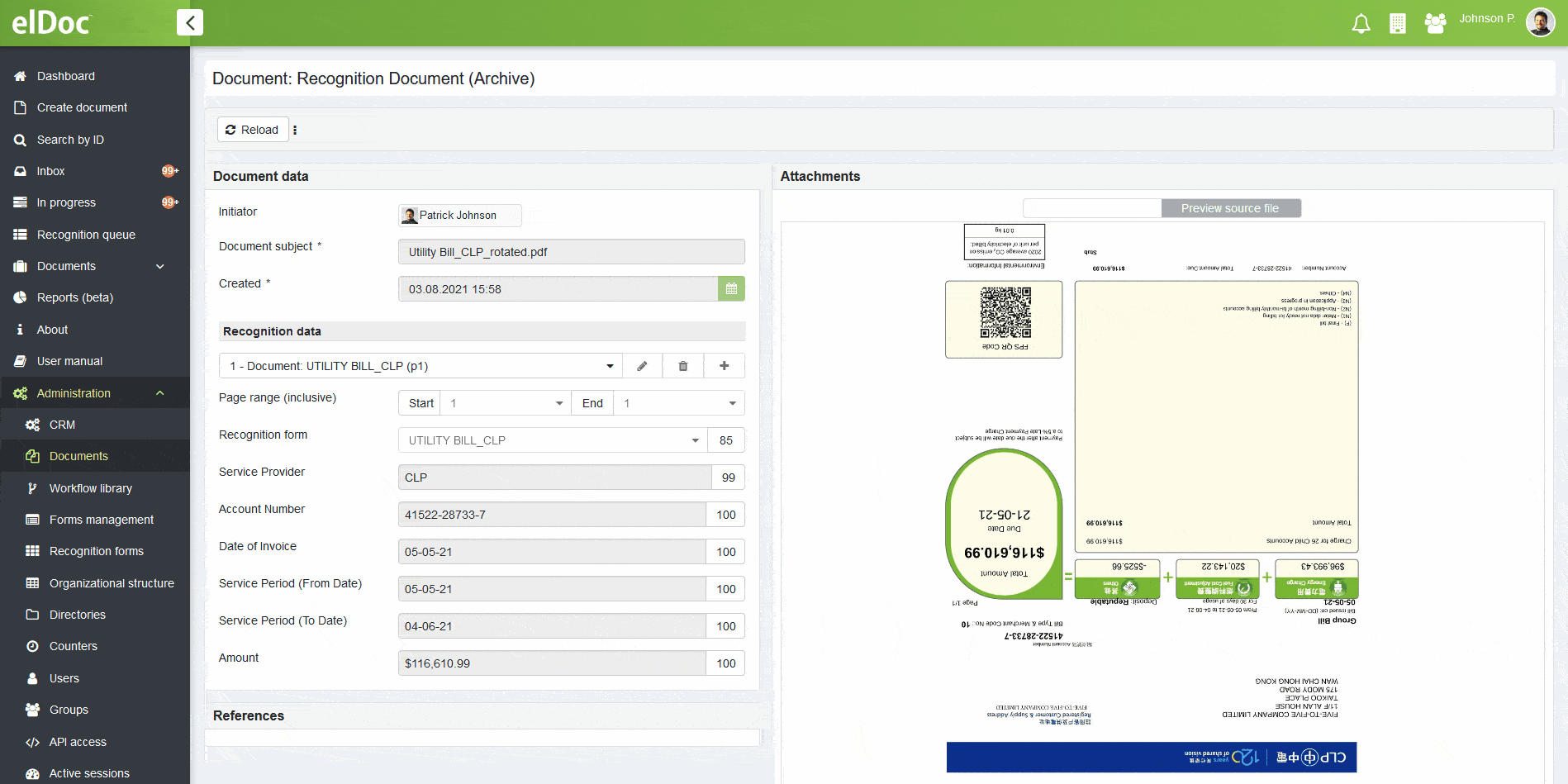 Intelligent data capture from utility bills
It may sound simple to locate and capture the data from utility bills. However, how about if your utility bill is a document where data with tables is spanning across multiple pages and your table data is not fixed and in addition you have some handwritings on it. Obviously, your automated solution shall be capable to perform data extraction from the most complex utility bills (scanned or digitally generated documents) what can be achieved by leveraging Artificial Intelligence (AI) and advanced mathematical models.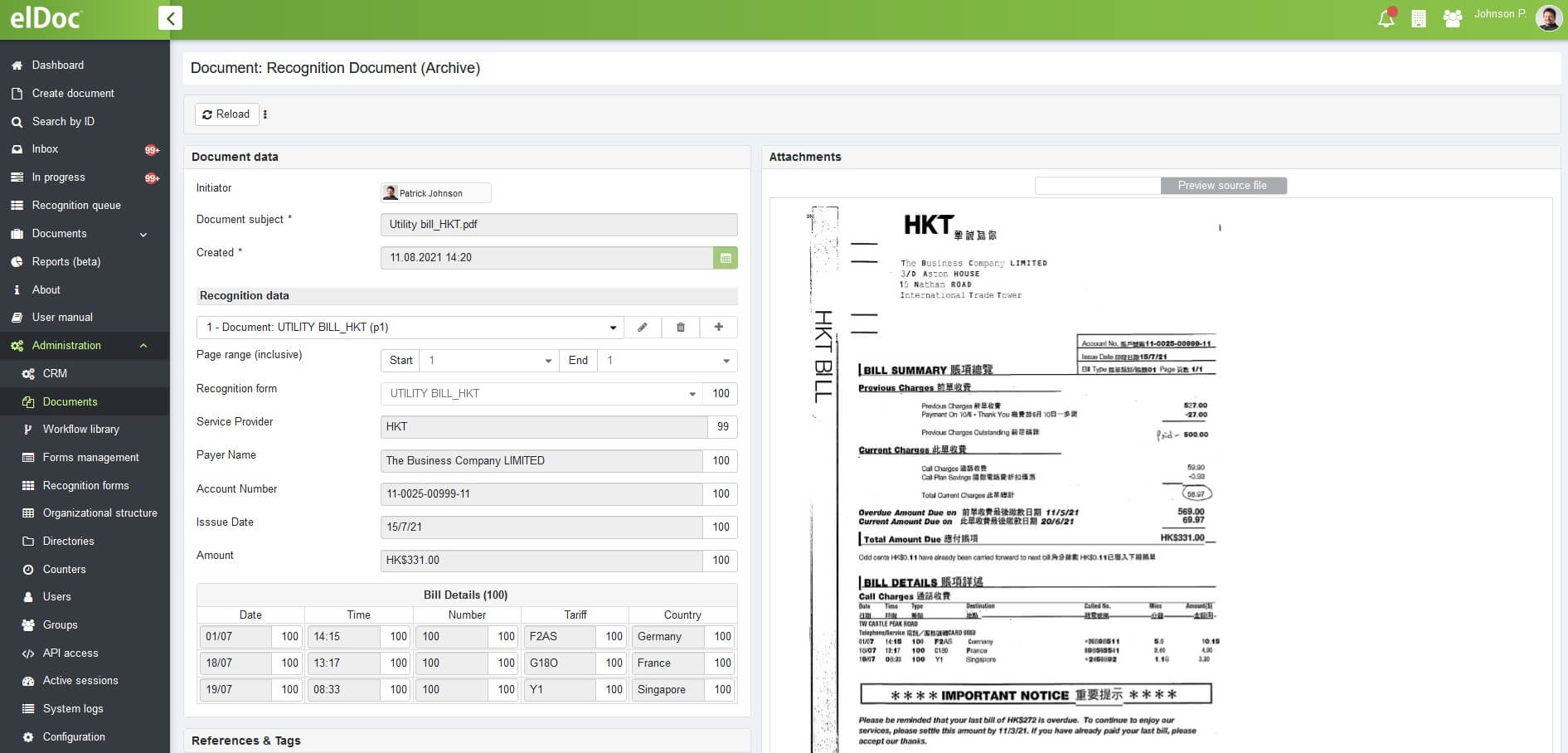 Utility bill data validation and cross-checking
You have captured and recognized your data from utility bills - but this is just only half of automation. Now you need to validate, cross-check and post-process your captured data to make sure that your data is 100% correct and consistent. Integrated automated solution shall be shipped with an advanced configuration capabilities for you to easily apply additional logic, data cross-validation, data post-processing where required which may include but not limited to: converting captured data to the single required format, data cross-checking and validating the data with required values, replacing data with pre-approved list of values, etc.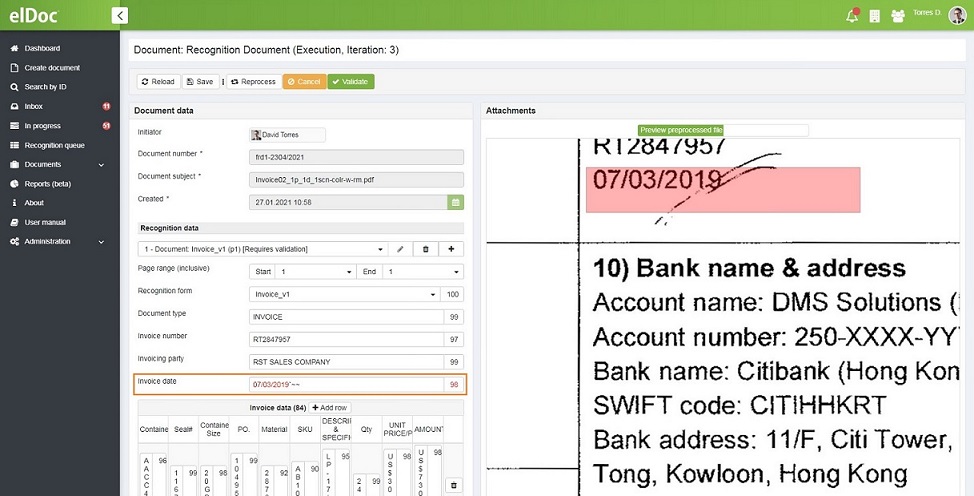 Utility bill data export or data feeding to other systems
Once data is validated and cross-checked you might need to perform either data export for the further data processing according to the different business scenarios or you may further feed your captured data from utility bills to your other systems by automating utility bills processing from end-to-end. In a such scenario - your integrated automated platform shall have API, export capabilities, and No Code BPM functionalities enabling to automate utility bills processing from end-to-end perspective with minimum efforts.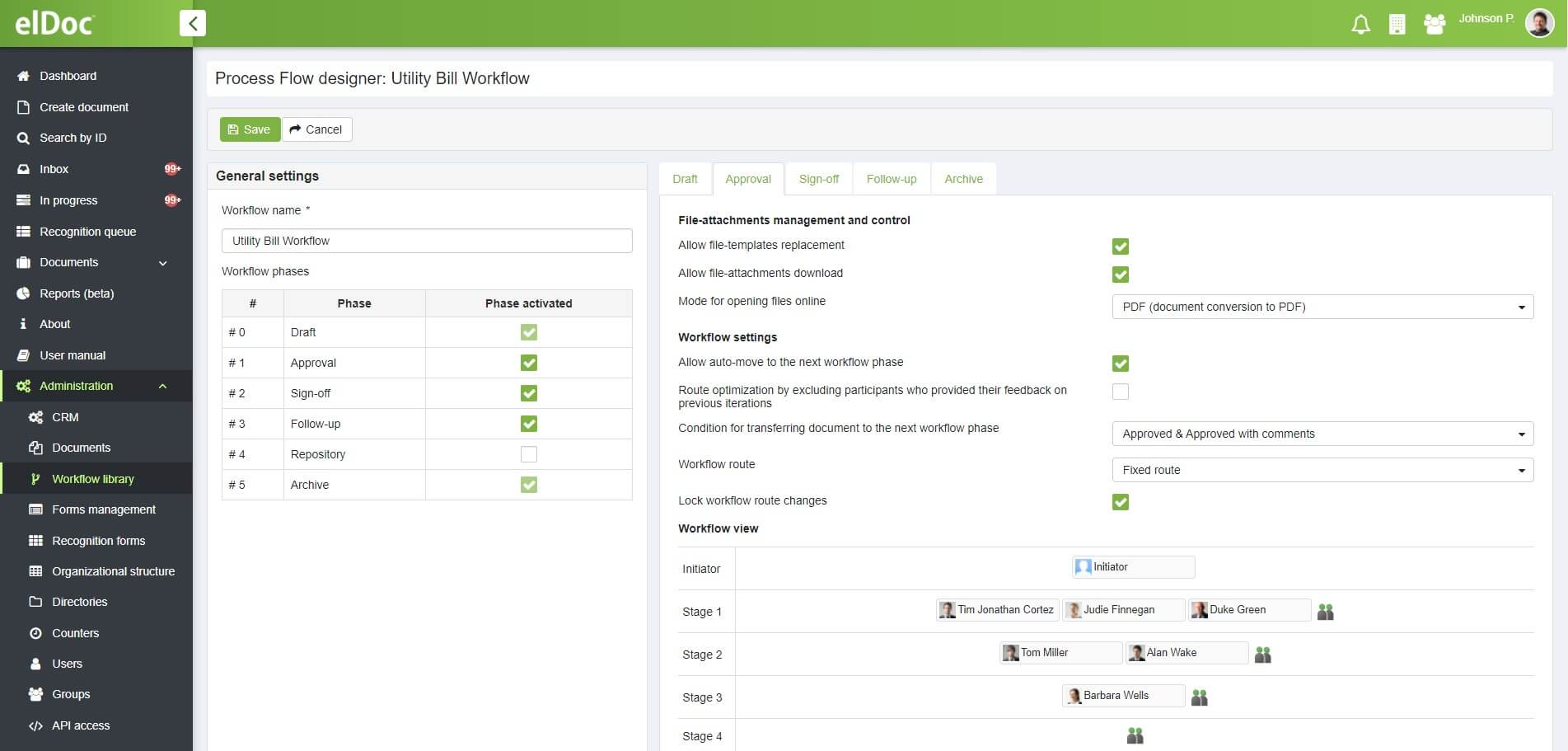 Centralized utility bills management and maintenance
Once utility bills are processed - you might also require to store your utility bills for further reference and audit purposes. Considering that utility bills may contain some financial information - you may also require to set the necessary settings for access control where only authorized users / individuals will have permissions to preview / download / print / edit / access particular utility bill. Your integrated automated solution shall also have a powerful content search engine with granular access right management capabilities enabling to find any utility bill or even fragment of text among thousands of records in two clicks.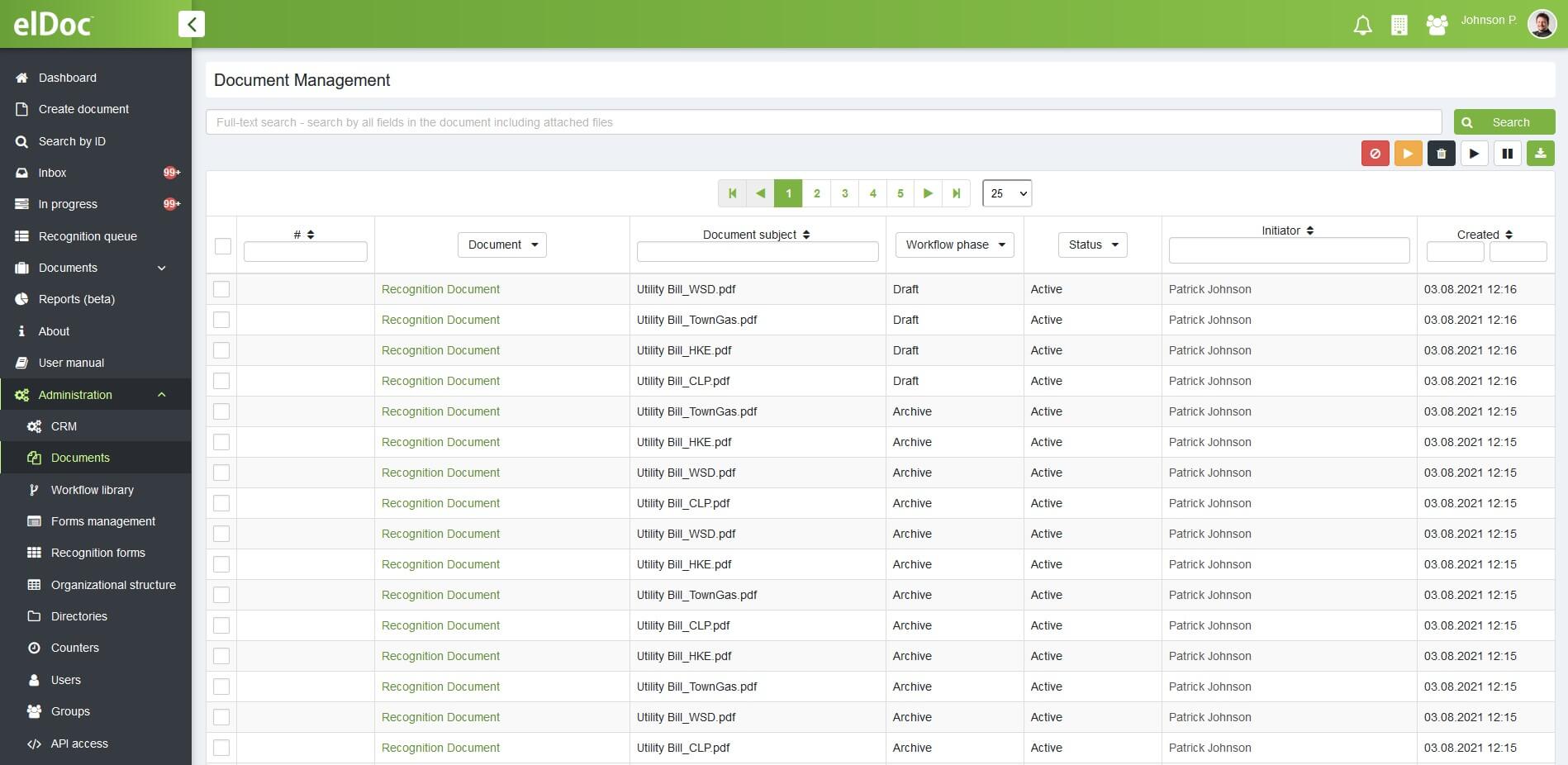 Conclusions:
Utility bill management shall not create hassle for your business and doesn't have to be time-consuming. You might think that automating utility bill processing is challenging however if you leverage a right integrated automated solution – you may achieve your automation goals in a very short period by turning your monthly operations to be hassle-free and less expensive.
Explore more - Automate more with AI:
Automated Bank Statement Processing
Automated Invoice Processing
Automated Transcript Processing
Automated Payment Advice Processing
Data capture from ATM receipts & Payment slips
About «elDoc»
«elDoc» - Integrated Intelligent Automated Platform for Document Understanding (Intelligent Document Processing), Document Workflow Automation and Content Management from Anywhere. «elDoc» is enterprise level solution available as SaaS and on-prem for end-to-end Intelligent Document Processing. elDoc is powered with cognitive technologies (Artificial Intelligence including Computer Vision) to be capable to process intelligently documents (scanned and digitally generated) of any complexity with further end-to-end document processing and document workflow automation.
Willing to test how Intelligent Document Processing works in practice – Get Free Trial Now – «elDoc Online»
About «DMS Solutions»
DMS Solutions is a vendor of Integrated Intelligent Automated Platform for Document Understanding, Document Workflow Automation and Content Management from Anywhere - "elDoc".
«DMS Solutions» is your professional implementation service partner in the field of Intelligent Automation and Advanced Robotic Process Automation. We leverage Computer Vision, Machine Learning, Artificial Intelligence to build a powerful digital workforce for your business to win on the market. «DMS Solutions» is a certified Advanced Technology UiPath Alliance Partner and Technology Blue Prism Alliance Partner in the field of intelligent document understanding (Intelligent OCR).